Yep this goober is now ten months (technically she's a year now but the picture were taken when she was ten. It's just been really hard to keep up with blogging lately). She is such a sweetheart; a stinker, but a sweetheart all the same. Now for some fun Katelyn tidbits:
See that bruise on her forehead? Yeah, she constantly has them from throwing tantrums and face planing on the floor when she doesn't get her way. You'd think that the pain from the bruise would be enough for her to stop doing that but no.
Her hair is finally long enough for clippies! I was so happy when we put the first one one and it finally stayed. The problem is her now. She refuses to keep them on and will rip them out and stick them in her mouth... which bring me to my next tidbit
She is still putting everything in her mouth. It's cute and sweet when she is able to feed herself but we have to be on constant alert for her with things she may find on the floor. It has made me even more OCD than before when it comes to things on the floor, vacuuming and moping.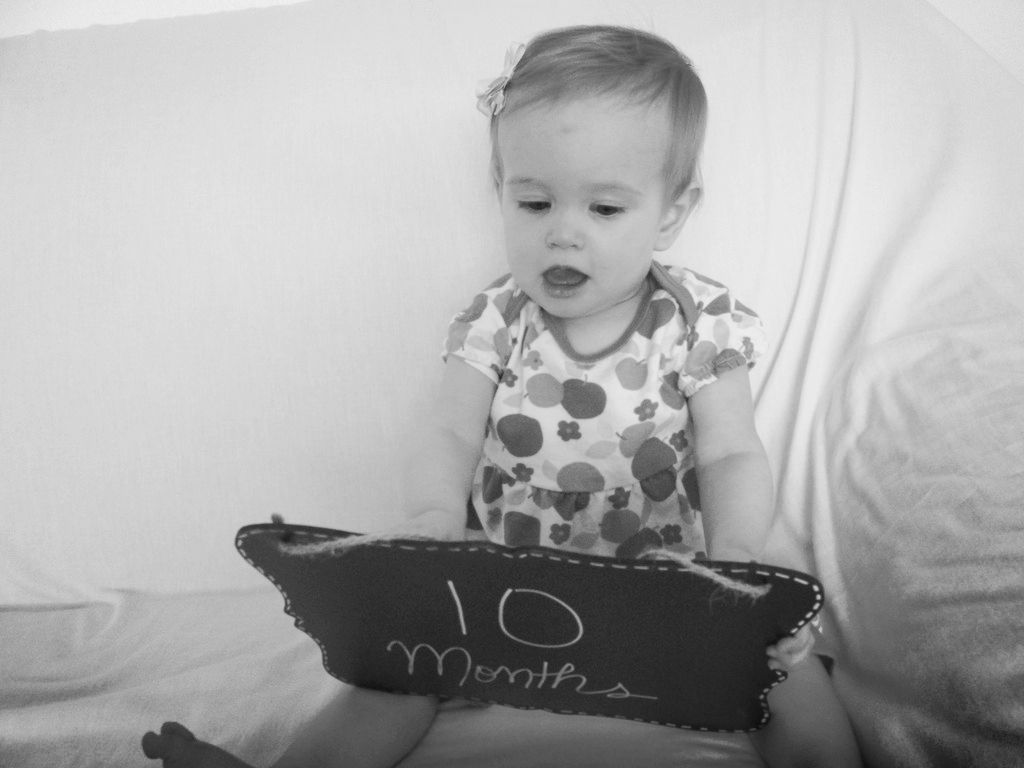 Still refuses to say "mama" and "dada" and it's still refusing to clap. The Little Guy and I sit down with her everyday to try to get her to clap by playing pat-a-cake or singing other songs, but will not have it. The funny thing is that she does every other movement in the songs except for the clap part. It's like she is deliberately not clapping because I want her to.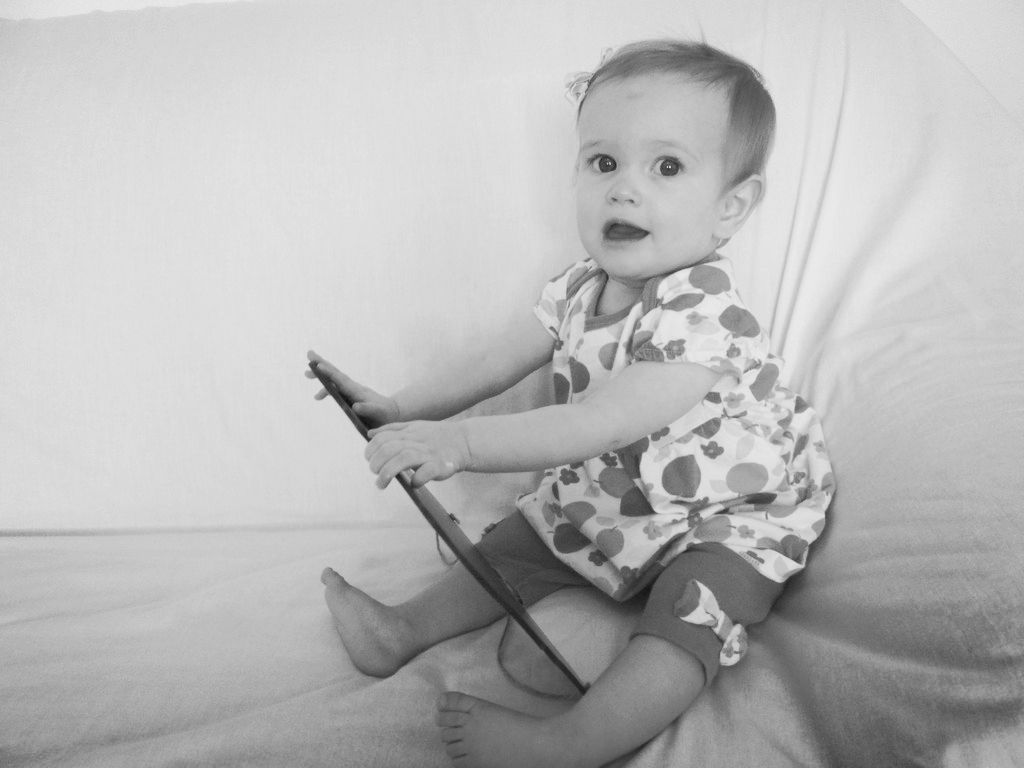 I have mentioned before how she has a way of smiling and wrapping everyone around her finger, well now she has added a shy look. She will smile at someone and then get shy and nuzzle her head on my shoulder. It is heart breaking cute. If the people in our ward loved her before, it is nothing short of worship now. I get stopped in the hallways constantly by people wanting to talk to her (young and old).
She still loves her big brother more than anything. Although now, baths are a second favorite. She has always loved bathed time and that has been super amplified with the fact that she is now big enough to be able to take a bath with the Little Guy and play in there with him. She will crawl as fast as she can when she hears a bath starting and still stand by the tub until it's her turn. Unfortunately, her love of baths means that she throws a huge tantrum and screams even I get her out. The Little Guy and I can't help laughing because as she will usually try to worm out the towel and get back in.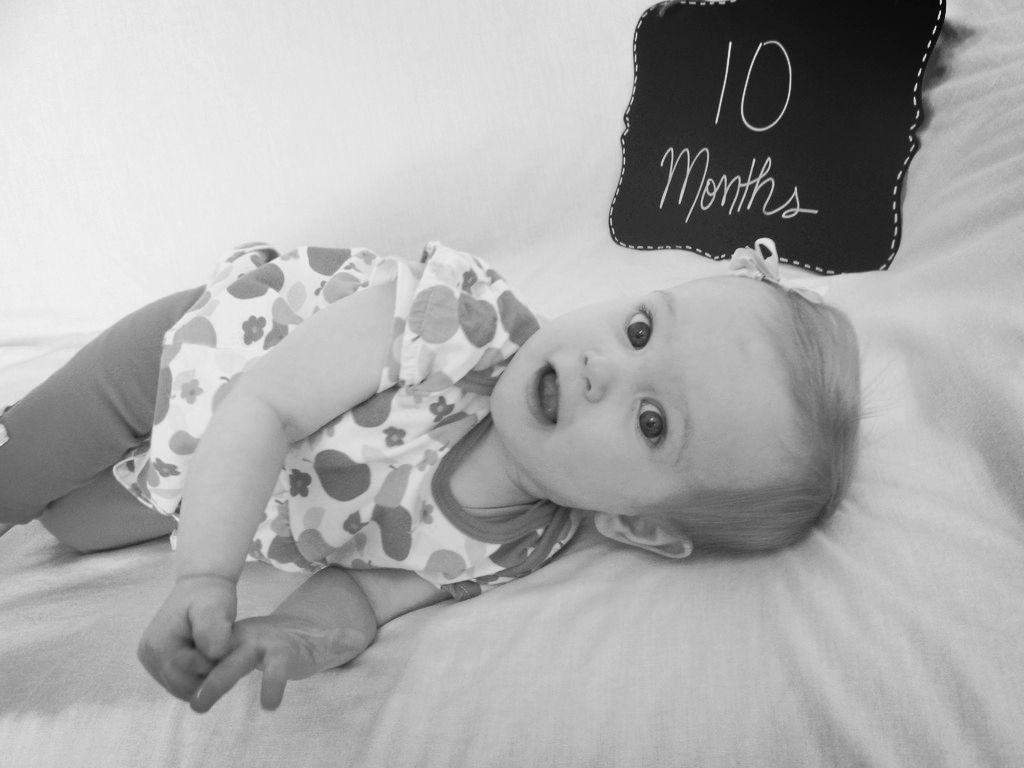 Loves music almost as much as the Little Guy and she is a huge dancer. Seriously. She dances to everything, even the Little Guy's beat-boxing. It has become a constant staple in our house that we listen to "dancing music" (reggaeton and bachata) at least once a day.
I'm pretty sure I've not mentioned this before but she's kind of a pain when I try to vacuum. Remember how the Little Guy used to be terrified of it? Well, she's the exact opposite. She will follow the vacuum around and try to grab it, crying when I move too fast for her. The worst part of it all, is that at some point of the vacuum process she gives up trying to catch the vacuum and settles for pulling on the cord and yanking of the outlet. At which point I have to pick her up and put her somewhere else, which produces more crying. Yeah, it's not fun.
I mean, sure, she can be a stinker, but she still the happiest baby I've ever met. She loves her family so much. She will brighten everyone's day with her smile. How can we ask more than that. (although I may be justified in asking for a little more sleep. She's still pretty bad at that)